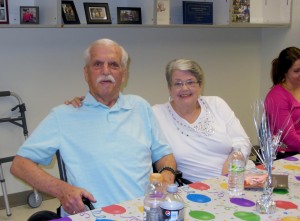 Age: 73
Time Since Stroke: 1.5 years
Tom, a retired government employee, had been a romantic and friendly person his whole life. His wife described him as a 'slow-thinker' who liked to listen first and then respond.
Problem:
severe aphasia and physical deficits
some visual issues
Stereotypic speech "I don't know" or "it's better than that"
Spouse described him as a slow thinker and romantic before his stroke
Assessment: Severe word-finding issues and very slow processing during supported conversation. However, he could repeat some words and phrases as well as reading aloud some words. He could copy large letters with some effort. Once he was aware of his aphasia, he would become very upset when he got stuck on his stereotypic phrases or words. Sometimes the word "Cadillac" replaced his thoughts. He gave no indication when he didn't understand something, just tended to stare off into the distance. He demonstrated no writing at all.
Treatment: 6 week program. We worked on all aspects of language using functional words and phrases. Language stimulation helped speech and comprehension.
Results:
Spontaneous speech improved, such as "I'm going to the bathroom" and "I want a diet Coke" independently
He met his goal to indicate to the speaker when he didn't understand
Used pre-written cards to select items for meals and activities
Wrote his name with no help
Testing showed an increase of 14.8% (Aphasia Quotient) at the end of the program. He was originally diagnosed with Moderate Global Aphasia, which changed to Moderate Isolation Aphasia. Tested auditory comprehension increased by 44% and 30% increase for repetition. He went from 0% to 30% on copying a long sentence and his written word object matching increased by 50%.