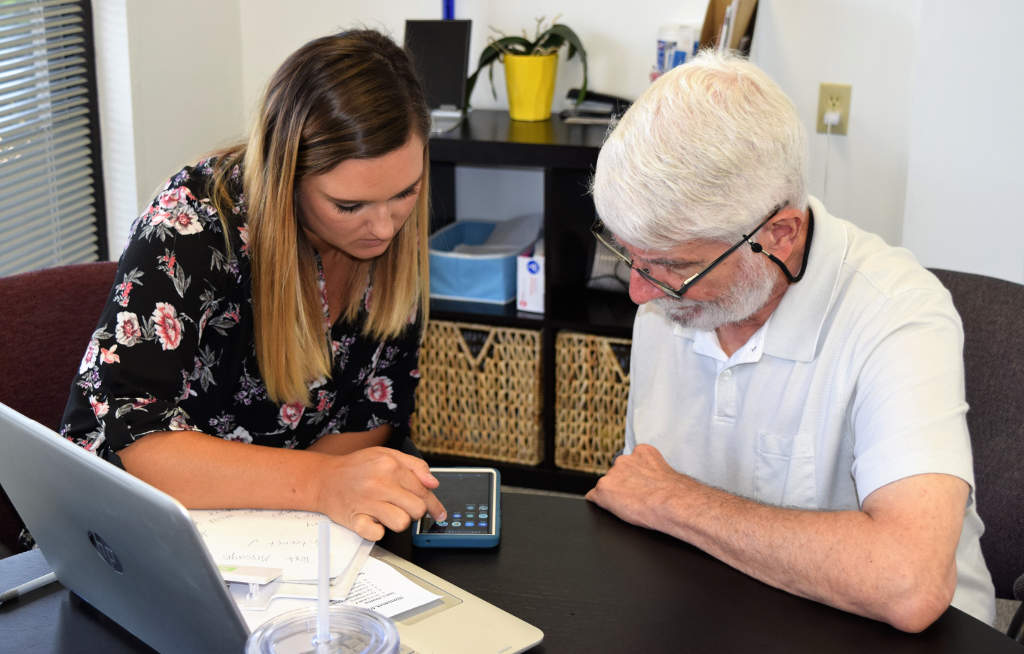 Intensive aphasia treatment is a rehabilitation plan specifically designed to improve your reading, understanding, writing, and speaking skills, so you can communicate more effectively.
You'll receive 10–30 hours of therapy every week over several weeks for 4–8 weeks. Unlike other therapy methods which use outdated, "workbook-based" therapy, intensive aphasia treatment is based on your individual strengths, specific speech and language issues, and your short and long-term goals.
A typical day in our intensive program is 4 hours of 1:1 personal therapy, followed by lunch and group therapy.
What's the difference between intensive and non-intensive treatment?
In the last 30 years, research has shown that clients who attend intensive aphasia treatment show greater improvements in their speaking, writing, and reading skills compared to patients with less intensive schedules.
This is because intensive treatment concentrates more therapy hours over a shorter period of time. This allows our clients to master a broader range of skills and see progress much faster.
What results can I expect from intensive aphasia treatment?
Each person with aphasia is different and individual results may vary, but every person we treat makes visible progress. We're focused on improving every aspect of communication including comprehension, writing, reading, speaking skills. We also address real-world skills, such as texting, ordering food, and technology use.
To learn more about actual treatment results, see our Case Studies section. You can also find more information about what our programs include and how they work.
What does the Aphasia Center do differently than other outpatient facilities?
Unlike other hospitals or Universities that sometimes offer intensive therapy, we are a private full-time, intensive program that only works with clients with aphasia.
Moreover, our therapists specialize in treating aphasia and apraxia. Each is personally trained by Dr. Bartels, a professional with over 10 years of experience and a Ph.D. in aphasia treatment.
Our facility is intentionally small - we only accept 4–5 clients at a time to ensure that your experience is personal and so that we can dive deep into your specific speech and language issues.
We are focused on treating you (as a person) instead of aphasia and we take into consideration your individual strengths and interests to guide your therapy plan.
But is it right for YOU?
To become a candidate for our program, you should be medically stable and able to tolerate at 5 hours of therapy daily. If you're ready to experience a breakthrough and experience independence, apply for our intensive aphasia treatment today.
But, don't wait – our program fills very quickly.