Case Study
Global Aphasia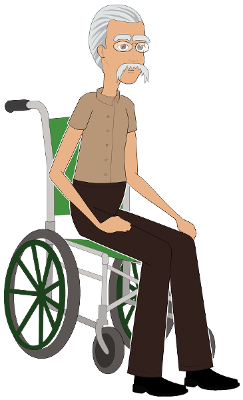 Age: 73
Time since stroke: 1.5 years
---
Problems
Problem: Tim, a retired government employee, had been a romantic and friendly person his whole life. His wife described him as a 'slow-thinker' who liked to listen first and then respond. She was devastated by his severe aphasia and mobility issues as "he took care of everything for me" and sorely missed 'the old Tim'. She was also very frustrated and angry about his stereotypies and inability to communicate.

With global aphasia, Tim's speech was stereotypic "I don't know" or "it's better than that". Occasionally he perseverated on the word "Cadillac". When he didn't understand something, he just stared off into the distance and didn't react. He wasn't aware of his utterances at the beginning of treatment. As treatment progressed, he became more aware of his errors and more frustrated when he got stuck. Comprehension in context improved significantly.
Assessment
Using WAB-R testing protocols
Severe word-finding issues
Some repetition of words and short phrases
Very slow processing during conversation
Poor single word reading
Poor writing — copied some uppercase letters with effort
Treatment
He completed a 6-week program
and My Aphasia Coach software homework daily.
---
Results

Auditory Word Recognition
18%
62%

Written Word Recognition
0%
50%

Sentence Reading
0%
15%

Repetition
---
Outcome
Spontaneous speech improved, such as "I'm going to the bathroom" independently
Requested clarification when he didn't understand
Used written words to select items for meals and activities
Wrote his name independently
His wife learned strategies and expectations to better communicate with him
Counseling with his wife to help her with her frustrations, introducing her to other caregivers for support