Case Study
Severe Wernicke's Aphasia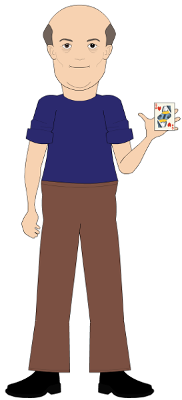 Age: 80
Time since stroke: 2 months
---
Problems
Peter had to step down as the President of his hobby club because he couldn't be understood, talk on the phone, send emails or read emails. He was a very social person who enjoyed playing cards and socializing with others in his club.

With Severe Wernicke's Aphasia, his speech was approximately 40% understandable to untrained listeners due to neologisms (nonsense words) and paraphasias (mistakes that sound similar to the word). He was generally aware that he couldn't be understood, but had no strategies to help the listeners. He could not fix his speech mistakes, even with assistance. He and his wife were very discouraged. Their primary goal was for Peter to be able to speak more clearly to socialize and attend his hobby club.
Assessment
Using WAB-R
Some single word writing when prompted
Little awareness of speech errors or ability to fix breakdowns
Poor repetition of single words
Short sentence-level reading comprehension
Asked for clarification "what do you mean?"
Speech approximately 40% accurate
Treatment
He completed a 6-week program with tDCS
and My Aphasia Coach software homework daily.
---
Results

Naming
10%
53%

Speech Content
20%
70%

Comprehension
53%
97%

Writing to Dictation
0%
70%

Repetition
3%
16%
---
Outcome
Speech was 85% intelligible given minimum cueing
His wife learned better strategies to communicate with him
Repeated words from videos and Text-to-speech app
Independently initiated compensatory strategies
Stepped down as his club President, but attended and helped organize events
Played cards with his friends